GREY MAMBA propose un titre déjà existant de sa collection de disque vinyle, REDGE HOPE ajoute sur la sélection ses orgues, pianos, mélodies… GABRIEL EARLYHEMP écrit et pose sa voix sur différentes Tunes, leur passion les poussent aussi à créer des morceaux originaux.
Le projet existe depuis décembre 2021 et a le plaisir de partager leur passion commune de la musique jamaïcaine des années 60, le Ska, Rocksteady, Early Reggae et Reggae.
Mais bien sûr leur plaisir est surtout de rencontrer des gens et de faire danser tout ce monde lors de leurs sessions live!!
Come on dance with we!!
REDGE HOPE!! est un musicien de Fécamp (Seine-Maritime) qui baigne dans la culture musicale Reggae depuis qu'il est en âge d'écouter de la musique. Il a eu ses premières expériences dans les années 80, comme par exemple avec le groupe CANDY LIES, il évolue ensuite notamment au sein du très remarqué groupe Ska Mr SPEAKER ou encore, et plus récemment, TWO OF US groupe early reggae et SKA FLAKES. Il est aussi le créateur et webmaster de LA MURMURE Webzine sur les Musiques Actuelles en Normandie depuis plus de 20 ans.
GREY MAMBA (Brest), Voilà déjà 30 ans qu'il fait tourner ses platines à l'adrénaline de la black music et surtout jamaïcaine des sixties (Ska, Rocksteady, Early Reggae, Reggae, Soul et Northern Soul) et promeut cette musique par le biais de nombreuses réalisations, participations (fanzine, émissions de radio) et associations avec lesquelles il a organisé plus de 190 soirées/concerts/événements. Depuis 8 ans il se consacre à l'association CIGALE RECORDS avec laquelle il distribue, édite des disques vinyles et au MAMBA SOUND SYSTEM avec lequel organise les soirées ONE STEP BEHIND!!! (Plus information sur ce site, dans l'onglet « Mamba Sound System« ).
GABRIEL EARLYHEMP (Franco-américain) est la voix du groupe LAMALIZE IT!! Reggae/Dub (West cost), accompagné de ToonMan qui mix en live: Machines, joue de la basse et syntétiseurs!
Bass it up!
Le meilleur est à suivre!!!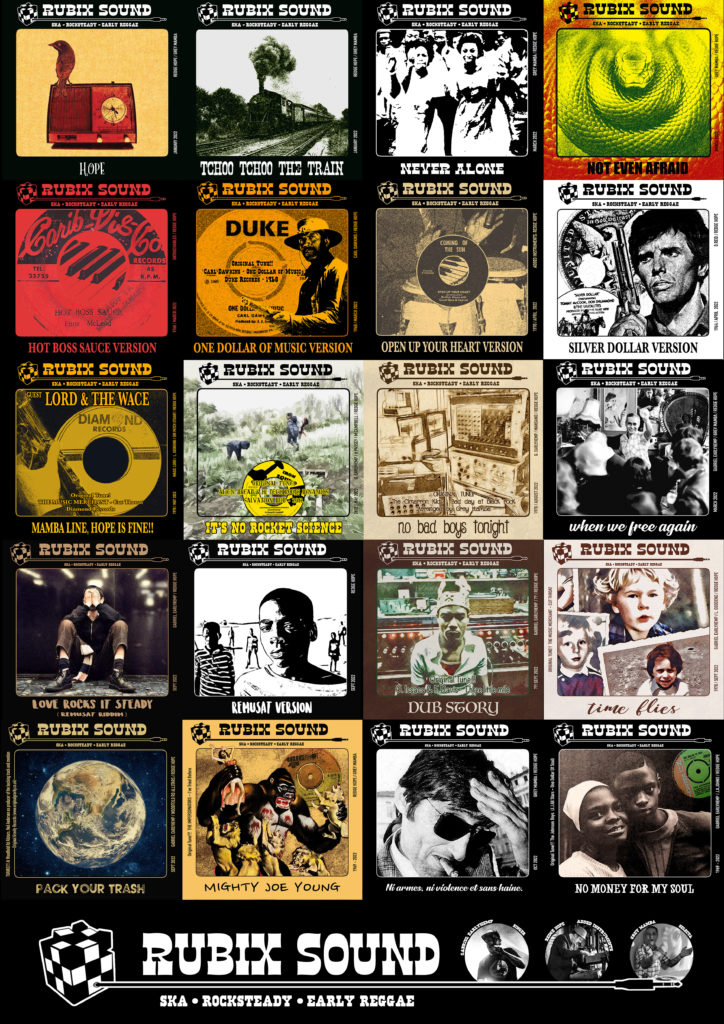 Vidéos et titres déjà disponibles à l'écoute:
---
RUBIX SOUND – Stunning West Coast In The Sun
Music written and produced by Andreas Bauer (aDUBta) & King HuHa (Mauricio-Joran Ceseña) Drums, Piano, Organ – aDUBta – Bass, Guitars – King HuHa – (P) & (C) 2021 aDUBta
---
RUBIX SOUND – SUDDEN ATTACK (juillet 2023)
Big tune by Don Drummond!! Rubix soundisé.
---
RUBIX SOUND – Mule train Hope Version (juin 2023)
Mule Train est un gros classique de Count Prince Miller chez les amateurs de Early Reggae, Redge Hope reprend le thème et ajoute ses orgues hammond et ses pianos sur la version instrument de la face B du single, le tout mixé par Grey Mamba! Listen.
---
RUBIX SOUND – No Money for my Soul (Avril 2023)
Notre âme n'est pas à vendre!! New tune!! RUBIX SOUND – No Money For my Soul (original: The Johnson Boys – One Dollar of Soul) 1969/2023
RUBIX SOUND – GUETTO RUBIX (mars 2023)
RUBIX SOUND – Social Progress (Fevrier 2023) – Redge Hope revisite le titre des « Acetones – Goliath » de 2015.
---
RUBIX SOUND – 1er live au Café de la plage (St Martin Brest) – 3 Février 2023
(Only Gabriel EarlyHamp & Grey Mamba)
---
RUBIX SOUND  » Ni Armes, Ni Violence et Sans Haine » (Spaggiari Riddim – Janvier 2023)
Pour annoncer la venu du guitariste Albert Akbaba (The Steadytones,…, Allemagne) dans notre crew, voici le premier titre composé tous ensemble. Gabriel à déjà planché sur des lyrics (en exclusivité sur le live).
---
RUBIX SOUND  » Take Five Club » (Janvier 2023).
On persiste avec une tune magistrale du Rocksteady « Take Five » de Val Bennett and carib Beats (1968 – Production par Bunny Lee), Redge Hope y rajoute piano et orgues. Bonne écoute!!!
---
RUBIX SOUND – Pack Your Trash ( GABRIEL EARLYHEMP / WOODFEILD RD ALL STARTS / REDGE HOPE / GREY MAMBA)
Faisons en sorte de protéger au mieux notre terre, car elle nous rappelle que nous sommes que de passage;
THANKS to the Woodfield Rd Allstars, Neil Anderson as producer of the backing track and mention to Original Gravity Records (www.originalgravity.co.uk).
---
RUBIX SOUND – TIME FLIES ( G.EARLYHEMP/ L.GOODENG/ REDGE HOPE)
Non, ce n'est pas de la nostalgie, le passé fait ce que nous sommes et s'est passé si vite, le Reggae nous a aidé à passer les épreuves, alors on va tous continuer à faire monter le son encore plus fort !! We put the session on top!!!
No, it's not nostalgia, the past is what we are and happened so fast, Reggae helped us pass the tests, so we're all going to continue to turn up the sound even higher! ! We put the session on top!!!
---
RUBIX SOUND – DUB STORY (G.EARLYHEMP / ?? /REDGE HOPE/ MIX: GREY MAMBA)
---
RUBIX SOUND – LOVE ROCKS IT STEADY (Remusat Riddim)
(G.EARLYHEMP / REDGE HOPE)
---
RUBIX SOUND – Rémusat Version (Rémusat Riddim)
(Compo: REDGE HOPE / Mix: Grey Mamba)
---
RUBIX SOUND – When We Free Again
(Gabriel EarlyHemp, Grey Mamba, Redge Hope),
version vocal de l'instrument de RUBIX SOUND – Not Even Afraid.
On ne lâchera rien!! More Life!! Good listen and vibes.
---
RUBIX SOUND – No Bad Boys Tonight
Original Tune: The Cimarron Kids – Bad day at black rock Arranged by Grey Mamba.
Added instruments: Redge Hope
Lyrics & Voice: Gabriel EarlyHemp (Aout 2022)
---
RUBIX SOUND – It's No Rocket Science.
Original Tune by ALIEN DREAD AND HI TECH ROOTS DYNAMICSSALVATION DUB (2012) (Redge Hope aux instruments rajoutés)!! Listen & Dance!!!
---
GREY MAMBA & REDGE HOPE + Guest LORD & THE WACE « Mamba Line, Hope Is Fine! ».
---
SKA !!! « Silver Dollar » Tommy Mc Cook with Don Drummond & The Skatalites (1964) new Version by Grey Mamba & Redge Hope.
Nous adorons le Ska et ce titre frénétique de 1964, nous en avons fait une version en y ajoutant les claviers de Redge Hope et on le partage avec vous pour partager notre folie !!! (April 2022).
---
RUBIX SOUND – Open up your heart, de Brother Moses with Count Ossie & Cedrick en version Orgue par Redge Hope
---
RUBIX SOUND – ONE DOLLAR OF MUSIC
Original Tune: Carl Dawkins ONE DOLLAR OF MUSIC!!! Organ Version by Grey Mamba et Redge Hope. The Duke Is The Boss!! (april 2022)
---
RUBIX SOUND – HOT BOSS SAUCE !! La sauce a bien pris!! Version live au piano par Redge Hope d'une tune déjà existante et remaniée par Grey Mamba!!! Good Listening!!
---
RUBIX SOUND – NOT EVEN AFRAID ( Grey Mamba & Redge Hope),
ce titre explore la vibe qui nous plait dans la musique jamaïcaine!!! Good vibes for good sound!! Laissez vous prendre par les claviers de Régis Redge Broussin, Bonne écoute !!!
---
RUBIX SOUND – Never Alone » (Grey Mamba & Redge Hope)
Titre Ska de notre combo, Bonne écoute à vous !
---
Divers liens internet:
https://www.le-far.fr/ric/musicbox/ADBN_043_17528849920?fbclid=IwAR3DHpa5s6i2bkCaJjIPlJWGECq9YwEAIaSbSUliy6RGbI7BYhx3is0xDdE
hthttps://www.facebook.com/RUBIXSOUNDcombo
https://www.youtube.com/channel/UCixNsZ_xsWpEbbS1dHMzStg/featured
http://sound.lamalizeit.com/?fbclid=IwAR1RnEG-SvQcFSqqnsMNPeSL5vte3-lsUJeHIW0CtS_jntnhgJWiB5H5Cec
---

---
Ils en parlent!!
https://rudeboytrain.com/les-chouettes-bidouilles-de-grey-mamba-et-redge-hope/
---