Afin de n'oublier aucunes soirées, événements.., cette page reste exclusivement réservée aux activités de Cigale Records, ses coproductions et distributions. Keep The Faith!!!
---
SAMEDI 16 NOVEMBRE
LE BAL DES GAVROCHES
Deuxième soirée pour « The Grey Mamba » au Victor Hugo.
Il se fera un plaisir d'élargir sa selection musicale habituelle pour que tous les « Gavroches » puissent y trouver leur compte!! Only vinyl of course!!
Le Victor Hugo
(48 rue Victor Hugo, Centre ville, Brest)
De 17h00 à 00h00, entrée libre!!!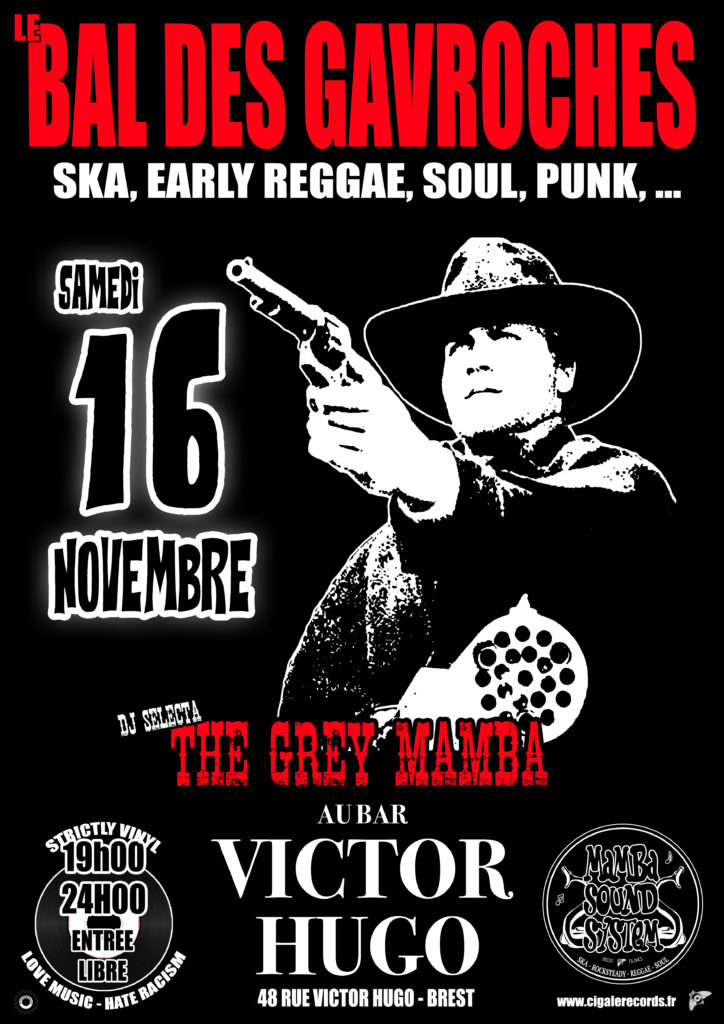 ---
Nous sommes fiers de vous annoncer le premier single de Cigale Records et des Travelers All Stars!!
TRAVELERS ALL STARS
Don't Give Up / George's Hair Cutting (feat Edgar Rodriguez)
BOOM !! REGGAE GORDO!! BOSS REGGAE FROM MEXICO!!
Here it is finally the first single of Cigale Records and Travelers All Stars !!
Aquí es finalmente el primer single de Cigale Records y Travelers All Stars!
Seulement 525 exemplaires!!
---
Nouvelle mixtape by the Grey Mamba!
D'autres mixtapes sont disponibles à l'écoute via l'onglet « Mixtapes« 
---
ARVAR FANZINE DEUX POINTS DE
DISTRUBATION A BREST!
---
Archives: Affiches des soirées & concerts